DINING • SHOPPING • MUSICAL CABARET THEATER
Rosewood features Dining, Shopping and a wide variety of themed cabaret-styled music shows – professionally produced in our state-of-the-art music theater. Colorful video and lighting accompany the finest Bose Sound System to create an extraordinary and memorable entertainment environment for our 70 to 90 minute original musical shows.
Our featured performers are Mark and Gretch Hladish. They have crafted a unique audience experience blending various musical styles and genres. Their themed shows have been attended by thousands of guests in their own theater and around the country since 2004. Rosewood was created to showcase their talents and provide the perfect setting to celebrate with those who love live music performances.
Here on this website you can preview show descriptions, song samples and menus for your consideration.You can customize your experience at Rosewood for 35 guaranteed guests or more.
Groups of less than 35 guests may select from already scheduled shows subject to availability. Please consult Rosewoodwi.com/tickets for show dates – and contact our inside sales for your group sales agreement.
All groups are required to pay a $100 deposit to secure a reservation. Final guest guarantee, meal choices and payment in full are required two weeks prior to the date of your show. The cost for a show starts at $59.95 per person plus tax – including dining and show – groups able to provide proof of tax exemption with their reservation are tax free. You will receive 1 complimentary ticket for every 25 paid guests and your bus driver(s) are always free.
Single Pour Table Wine Service – $5 per person / House Red, White or Sparkling – prepaid. Rosewood Wine Tasting and Gourmet Cheese Reception – $12.95 per person – prepaid.
(Gratuity is always appreciated, but never charged at Rosewood – it is entirely at the discretion of the group or individual guests. 15% to 20% is customary and can be added to final balance to accommodate one payment for group sales.) Payment can be made by cash, check or credit card – credit card transactions result in a 4% handling fee.
Rosewood will send an email proposal to you to service your account. When you click the link provided and accept the proposal, you will be prompted to send the $100 deposit to secure your reservation or pay by credit card over the phone. If necessary, cancelation at least 30 days before your event will result in the full return of your deposit.
Please allow 3-4 hours for the complete Rosewood Experience – you are welcome to arrive 1 hour before dining to browse our shops – enjoy a beverage of choice at the Theater Lounge or stroll the patio and gardens.
Thank you for planning your Group Tour Experience at Rosewood! We are looking forward to entertaining your guests!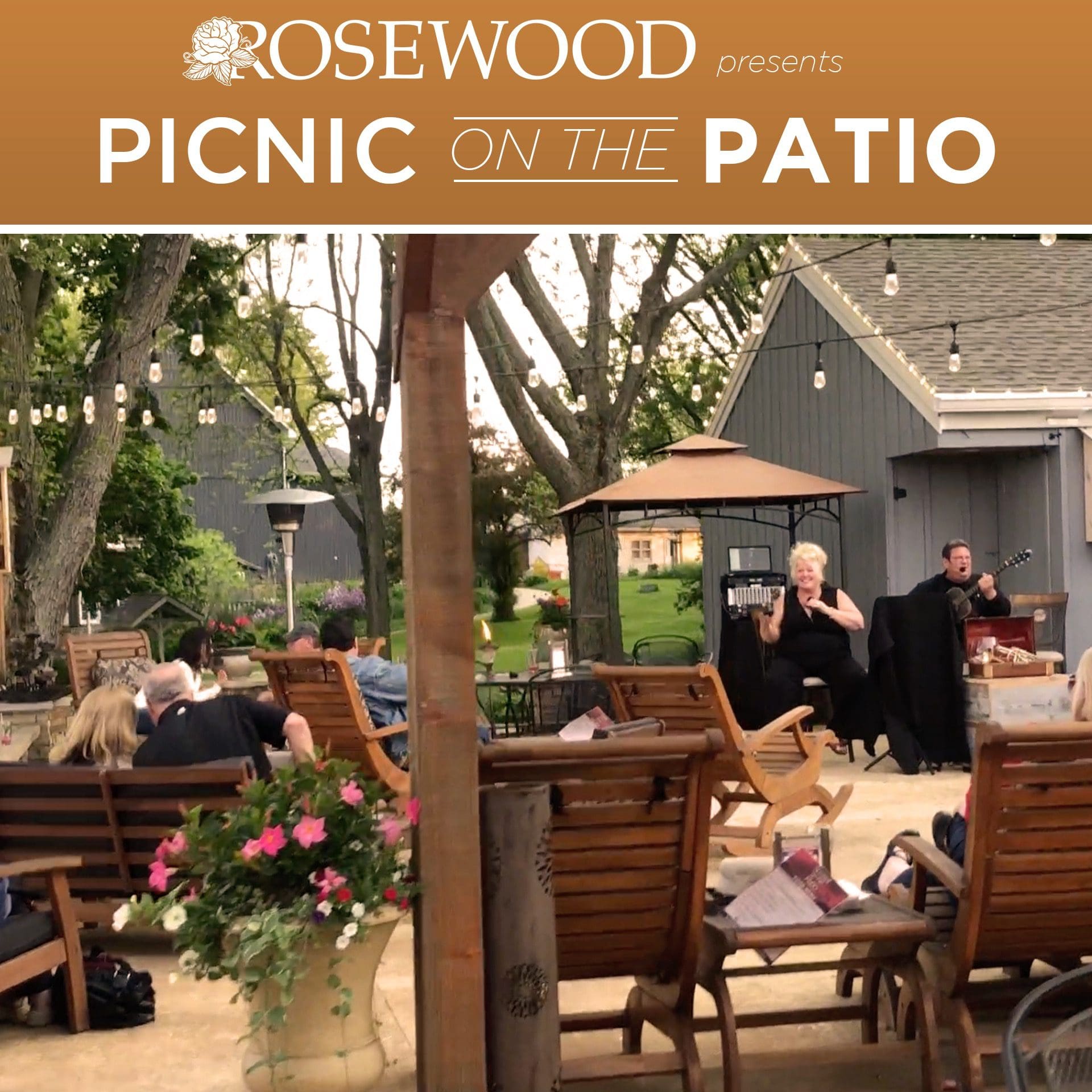 Rosewood is offering PICNIC ON THE PATIO, the same great music and show themes performed casually at our beautiful patio and cabana bar.
Performances are surrounded by the great outdoors, our raised gardens and fire pits. Strolling performers and Bose surround speakers guarantee great sound and sight lines in every seat. These shows are accompanied by a casual grilled menu at $39.95 per person.
These events are subject to weather with our theater offered as a rain or shine option. Please email or call for details and available schedule.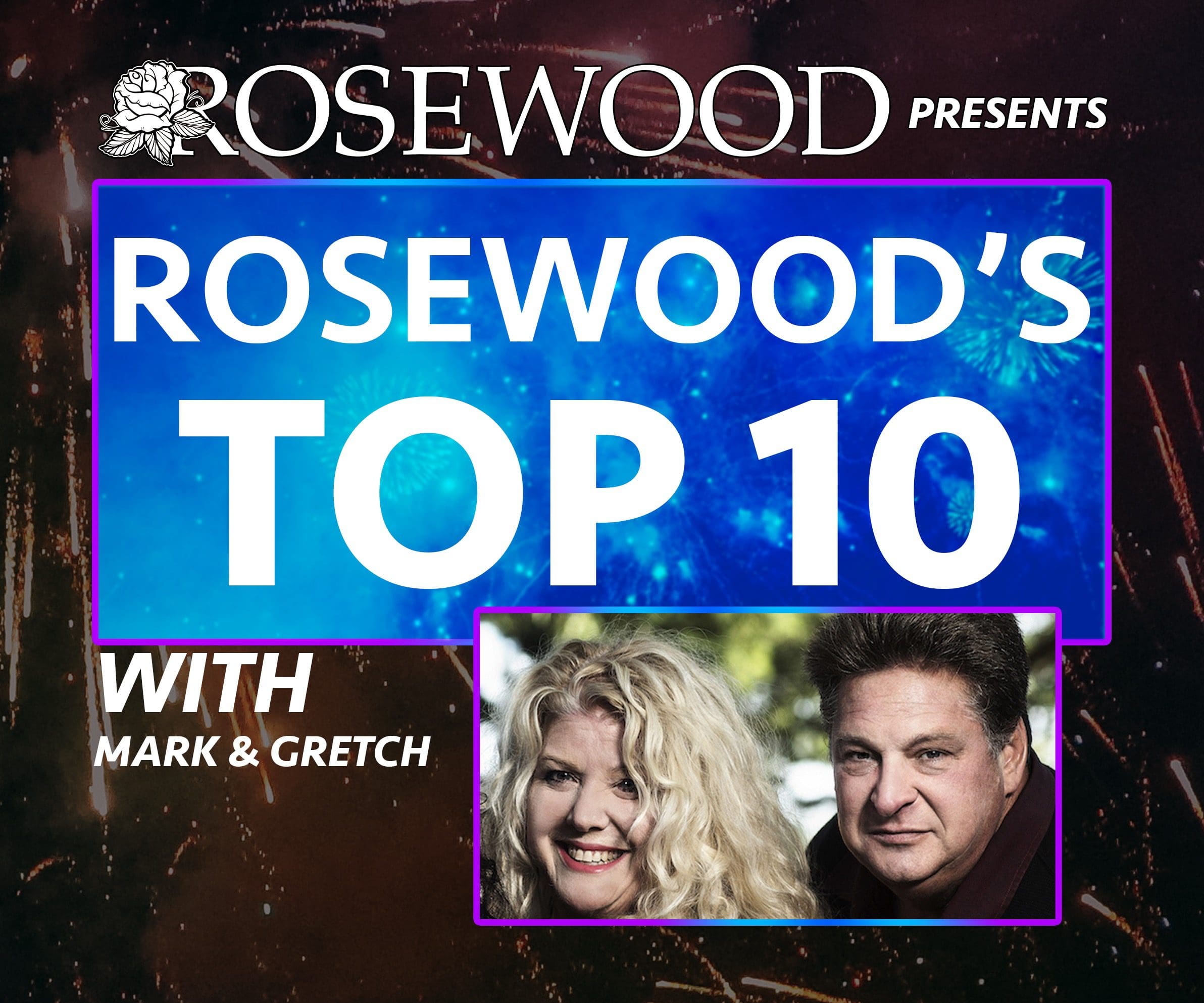 Rosewood is excited to present a special list of our top ten most requested songs and perform them in one show – back to back – counting down from 10 to number 1!
The list represents some great artists, unforgettable songs and memories. In addition, our performers choose bonus songs that are their own favorites!
Featuring songs by King Harvest, The Temptations, Linda Ronstadt, Frankie Valli & The 4 Seasons, Aretha Franklin, Orleans, Darius Rucker, The Jackson 5, Elvis, Michael Buble and more!
Rosewood's Top 10 – Sample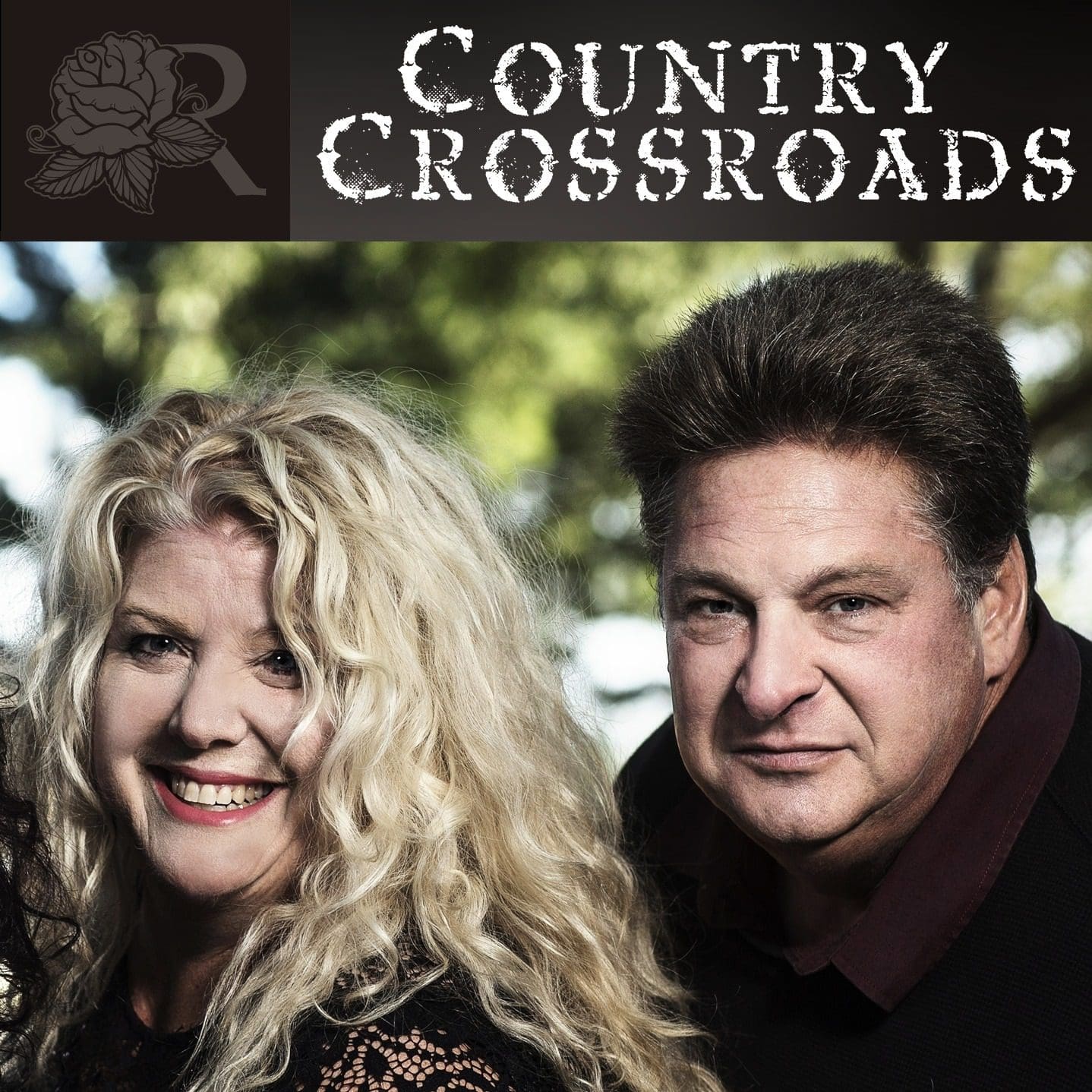 Mark and Gretch Hladish are Rosewood's featured performers. Recorded in 2019, they have produced Country Crossroads, a blend of classic southern rock songs and contemporary country hits. All songs showcase the powerful vocal harmony, as well as three original songs written by them. This show is the most personal reflection of their musical talents to date and has already received enthusiastic reviews.
Country Crossroads – SAMPLE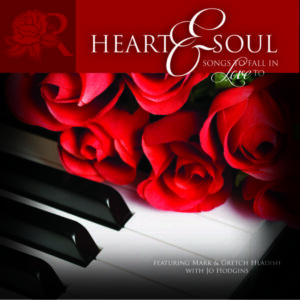 Heart & Soul spotlights love songs influenced by vocal harmonies of the 50's and 60's – The Chordettes, The Beatles, Nat King Cole, The Turtles, The Platters, The Beach Boys, Everly Brothers, The Shirelles, The Drifters, The Righteous Brothers and current artists such as Michael Buble' and Billy Joel.
Heart & Soul – SAMPLE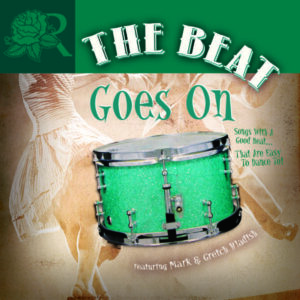 The Beat Goes On …music with a beat that's easy to dance to… Rhythm is at the heart of swing, R&B, and all popular music. Tap your toe to hits by Glen Miller Band, Chuck Berry, The Andrews Sisters, Elvis, Ray Charles, Carl Perkins, The Monkees, The Four Seasons, The Jackson Five, Johnny Cash and much more.
The Beat Goes On – Sample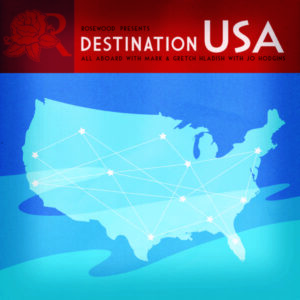 Destination U.S.A …climb aboard as we tour our country's famous destinations and landmarks. This whistle-stop journey includes hits from artists like Little Richard, Ray Charles, The Beach Boys, Johnny & June, The Gatlin Brothers, Petula Clark, Liza Minnelli, Mamas and the Papas, Roy Orbison, and more.
Destination U.S.A – Sample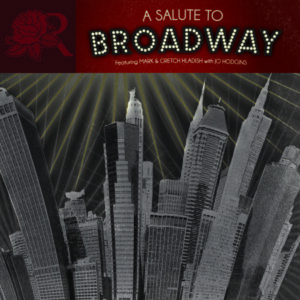 Salute To Broadway …American musical theater is a rich heritage and has become the foundation of pop culture – songs from Cabaret, Music Man, Hello Dolly, Grease, My Fair Lady, The Phantom of the Opera, The Sound of Music, West Side Story, Oklahoma, Porgy & Bess, Funny Girl, and Cats.
Salute To Broadway – Sample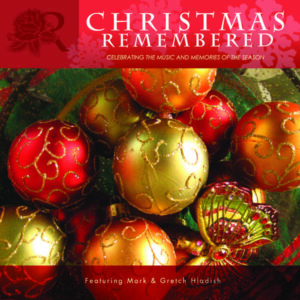 Christmas Remembered…as we celebrate together we look back and remember the songs, hymns, and carols that make this a magical time for us all. Sing along to your favorite holiday classics like Sleigh Ride, Silver Bells, Little Drummer Boy, White Christmas, Silent Night, Jingle Bell Rock and more.
Christmas Remembered – Sample
Chef-Attended Brunch Stations
Chef-Attended Omelets / Made to Order Station
Chef-Attended Pasta / Made to Order Station
Garden Fresh Vegetables, Assorted Olives, Herbs and Spices

Italian Sausage, Chicken, Ham, Ground Sirloin, Gulf Shrimp

Tomato Basil Sauce, Pesto Sauce, Alfredo Sauce, Tomato Vodka Sauce, Extra Virgin Olive Oil

Penne Pasta, Spaghetti, Angel Hair, Rigatoni, Fettuccine

Parmesan Cheese
Carving Station
Featuring Baked Virginia Ham / Mustard Cream Sauce
Displayed Hot Buffet
Buttermilk Belgian Waffles, Maple Syrup, Vanilla Whipped Cream

Crispy Applewood Smoked Bacon, Country Sausage Links

Rosewood Hash Brown Potatoes
Displayed Cold Buffet
Selection of Fresh Homemade Salads, Slaws and Greens

Fresh Seasonal Fruit
Rosewood's Sweets Table
Danish, Muffins, Croissants, Sweet Breads and Desserts
Includes Coffee, Tea and Soft Drinks
Chef-Attended Dinner Stations
Chef-Attended Pasta / Made to Order Station
Garden Fresh Vegetables, Assorted Olives, Herbs and Spices

Italian Sausage, Chicken, Ham, Ground Sirloin, Gulf Shrimp

Tomato Basil Sauce, Pesto Sauce, Alfredo Sauce, Tomato Vodka Sauce, Extra Virgin Olive Oil

Penne Pasta, Spaghetti, Angel Hair, Rigatoni, Fettuccine

Parmesan Cheese
Carving Station
Roasted Rare Garlic Crusted Sirloin / Horseradish Cream Sauce

Roasted Bourbon Molasses Glazed Pork Loin / Chipotle Sauce
Displayed Hot Presentation
Char-Grilled Seasonal Vegetables with Basil Chiffonade

Saffron Fennel Basmati Rice

Sautéed Kale, Garlic, White Bean and Dried Cranberries

Baked Aged Cheddar Potato Casserole
Displayed Cold Buffet
Selection of Fresh Homemade Salads, Slaws and Greens

Fresh Seasonal Fruit
Rosewood's Sweets Table
Desserts & Fresh Baked Pastries
Includes Coffee, Tea and Soft Drinks
Wisconsin Supper Club Buffet
Fish and Chicken
Spotted Cow Beer-Battered Cod

Baked Lemon Butter Herb Cod

Roasted Chicken
Sides
Hand-Cut French Fries, Potato Pancakes, Salt Potatoes

Wisconsin Supper Club Relish Bar and Cheeseball

Creamy Coleslaw, Seasonal Vegetables

Mixed Baby Green Salad Bar
Rosewood's Sweets Table
Desserts & Fresh Baked Pastries
Includes Coffee, Tea and Soft Drinks
Select Up To Four (4)
1. Roasted Citrus Garlic Crusted Organic Chicken with Chef's choice seasonal vegetable, wild rice pilaf and roasted chicken herb demi jus
2. Roasted Organic Chicken Wrapped in Prosciutto with fresh garden herb stuffing with steamed green beans
3. Pan-Seared Tilapia with Sautéed Ratatouille, roasted baby potatoes and fresh tomato cilantro crudo
4. Pistachio Crusted Atlantic Salmon with Chef's choice seasonal vegetable, mango champagne vinaigrette
5. Pan-Roasted Pork Medallions with Apple Cider Glaze, sautéed garlic spinach, sweet potato hash and roasted pork apple demi jus
6. Pan-Sautéed Pork Schnitzel, potato green onion pancetta hash brown, braised brown ale caraway cabbage, lemon caper butter sauce
7. Braised Burgundy Beef Tips, onion and carrots, puree of sweet potato
8. Oven Roasted Rare Sliced New York Sirloin with sautéed broccolini, garlic mashed potatoes and cabernet demi jus
9. Fettuccine, sweet green peas, applewood smoked bacon, tomato concasse, with creamy cracked black pepper alfredo sauce
10. Grilled Seasonal Vegetables with arugula, quinoa & cous cous pilaf and lemon olive oil aioli
Premier Plated Entrees Include
Chef's Choice Soup Du Jour or Baby Field Green Salad

Fresh Baked In-House Breads and Creamy Wisconsin Butter

Chef's Choice Dessert

Coffee, Tea and Soft Drinks
BOOK YOUR SHOW
Call Us : 262-725-7286