Whether it's a group experience with the girls, a personal consultation in your office or home, or a coaching session over the phone, Image 101 tailors our consultation to your needs based on your Personal Image Assessment. Experience your own personal growth café with our Modular Classroom; lay out a plan of action with your Personal Image Consultant. This consultation service is offered as a group event, per diem or with hourly rates.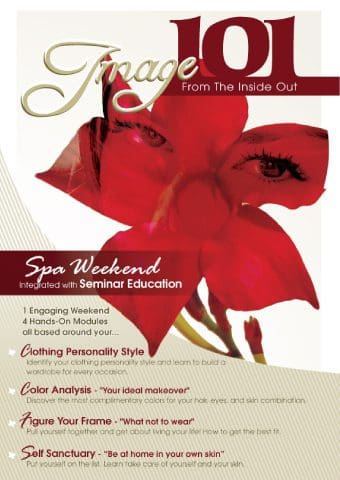 Image 101: From the Inside Out
Seminar Education Integrated with Spa Services
Module 1: Clothing Personality Style
Identify your clothing personality and learn how to build a wardrobe for every occasion. (Includes personality journal/shopping session)
Module 2: Self Sanctuary
Put yourself on the list and be at home in your own skin. Learn ways to care about the inner and outer you. (Includes aromatherapy mask)
Module 3: Color Analysis
Discover the most complementary colors for your hair, eyes, and skin combination. Accent your personal flair with makeup tips and tricks. (Includes new hair cut/style or manicure)
Module 4: Figure Your Frame
How to get the best fit. Pull yourself together, forget about your size and get about living your life. (Includes body profile/shopping session)
"Embrace Yourself" Spa Package
Be treated to a new hairstyle/cut, paraffin hand treatment, relaxing massage, and aromatherapy facial mask.
PERSONALIZED SESSIONS

$50/Hour- Half & Full Day Packages Available
Clean Your Closet:
Wardrobe audit, assessment, plan and strategies. Identify and transform life issues.
Put Your Best Face Forward:
Skincare analysis: utilizing a skin analyzer magnifier – find out what's up with your skin at the cellular level.
Connect Your Color:
Personal analysis of best 'wow' colors, including undertone, season, and flow. Includes makeup lesson, assessment, makeup chart, instructions, and makeup purchase recommendations.
Personal Shopping:
Clothing personality assessment, figure frame analysis, shopping session with Image Consultant, develop strategies for how to shop on your own.
SPECIAL EVENTS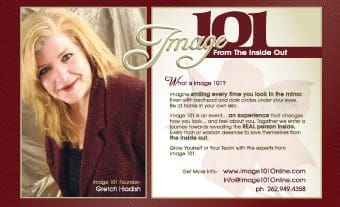 Real Women Revealed
Real women apply the principles of Image 101 Modules Clothing Personality Style, Color Analysis, and Figure Your Frame into an example of hands-on fashion demonstration. Think "seminar education meets fashion show". Makeover and hair styling available for the general public.
Queen For A Day
Experience the best style for your personality and body type. Bring 6 outfits completely accessorized and ready for feedback. Get the tools and professional advice to develop a personalized wardrobe plan. Receive lunch and a personal shopping session.
Spa Cafe
Bring the spa experience right into your event. Select from the variety of packages available. Pick a date, call your friends, and select from the "Spa-variety Menu" of specialty sessions.: Spa Girl, Tool Time, Mind Over Matter, Color Me Crazy, Tranquility Train, Magic Moments, or Lifetime Memories.